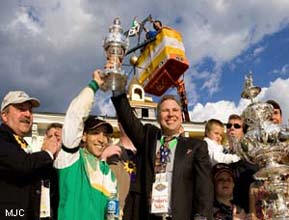 Welcome to My Derby Pick - the world's premier list of the craziest props for the Kentucky Derby!
Did you know that American Pharoah and Victor Espinoza won the 140th Preakness Stakes in 1:58.46? My Derby Pick made that pick at the OTB! Okay, what happened then? Wake up!! HE WON THE BELMONT STAKES and the Triple Crown. My Derby Pick-- yup, we picked that at the offtrack betting parlour, too. Will it happen this year?
The Preakness Stakes takes place precisely 2 weeks after the Kentucky Derby. Did you know it is easy to remember the dates, too. The Kentucky Derby is always the first Saturday in May. (Think "First Friday's" but make it "First Saturday's"). The Preakness follows 2 weeks later. Then, the Belmont Stakes is 3 weeks after the Preakness. Got it? Good!
Where is the Kentucky Derby? Churchill Downs in Louisville, Kentucky
When is the Kentucky Derby? Saturday, May 6th, 2023 <-- it is ALWAYS THE FIRST SATURDAY IN MAY-->
The Gates Open at 8AM EST and the First Race Post Time is 10:30AM
The Kentucky Derby Post Time is 6:05PM EST
Brief History of My Derby Pick and the Kentucky Derby
On a late summer evening in 2005, an agreement among sportsmen to create and commemorate a memorable occasion became the foundation for the My Derby Pick website.
Jimmy T of Maryland, a horsemen and racing entrepreneur, was among the distinguished roster of guests at an elegant dinner party after the races at the Union Hall Hotel in Saratoga given by Jules and Marcellus Wallace's wife, Nina, who had gained much of his wealth selling spam during the Korean War. Tommy Franklin of New York proposed that the feast be commemorated by a a list of crazy props that nobody had ever heard about for horse racing. Like taking the Super Bowl props (like a coin toss) and applying them to horse racing.
Offtrack betting which is sometimes called off-track betting or simply OTB, is when you go to a physical location to place your bets-- the casino sportsbooks have areas that are called racebooks, but we like the old fashion OTBs where you can see torn tickets, false teeth and cigarette butts on the floor mixed with the crushed dreams of winning superfecta tickets.
Read More History Here